Dan Tepfer
Goldberg Variations / Variations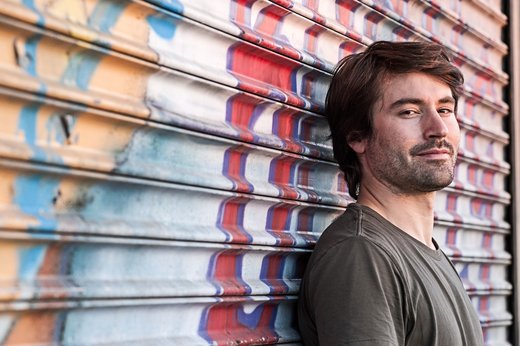 "Riveting and inspired (...) A brilliant performance" 
"...Goldberg Variations/Variations (Sunnyside), is one of the more audacious, accomplished recordings of 2011. Rather than deconstruct or swing the repertoire, Tepfer treats the suite idiomatically, functioning alternately as a classical pianist - with a point of view that will make sense to Baroque aficionados - and as a virtuoso improviser saturated in the tropes and syntax of the jazz canon. In distinction to his live performances, he frames each invention precisely within form, duration and implied narrative of the "chapter" upon which it is based. Some cohere more effectively than others, but overall attitude is spontaneous and in-the-moment, denoting Tepfer's command of the raw materials and prolonged reflection upon the "Text". (...)." Ted Panken, Downbeat 
Bio
Born in Paris to American parents, "tremendously gifted" (LA Times) pianist-composer Dan Tepfer has translated his bi-cultural identity into an exploration of music that ignores stylistic bounds. His 2011 Goldberg Variations / Variations, which pairs his performance of Bach's work with improvised variations of his own, has received broad praise as a "riveting, inspired, fresh musical exploration" (New York Times). He has worked with the leading lights in jazz, including extensively with saxophone luminary Lee Konitz, while releasing seven albums as a leader. As a composer, he is a recipient of the Charles Ives Fellowship from the American Academy of Arts and Letters for works including Concerto for Piano and Winds, premiered in the Prague Castle with himself on piano, and Solo Blues for Violin and Piano, premiered at Carnegie Hall. Bringing together his undergraduate studies in astrophysics with his passion for music, he is currently working on integrating computer-driven algorithms into his improvisational approach. Awards include first prize and audience prize at the Montreux Jazz Festival Solo Piano Competition, first prize at the East Coast Jazz Festival Competition, and the Cole Porter Fellowship from the American Pianists Association. His recent soundtrack for the independent feature Movement and Location was voted Best Original Score at the 2014 Brooklyn Film Festival.