Florian Hoefner Trio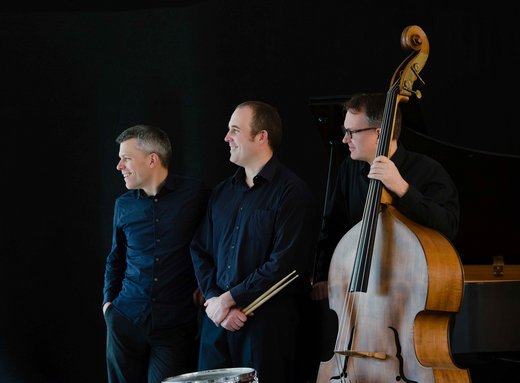 Hoefner, Downing, and Fraser grab the listener's attention as they create and link a myriad of moods.

Desert Bloom
A calling card of the Germanborn, New York-trained, Canadian pianist/composer is his ability to give his music a strong shape and storyline, something that critics have recognized: "It is the essence of flow, as clear as a stream rushing by and equally invigorating." (New York City Jazz Record). In "Desert Bloom," there is a particular alchemy at work: Hoefner's music can be formally complex and has the kind of structural integrity that comes from a highly developed and careful craft, with far more attention to this than would normally be the case for a jazz piano trio. And yet, invariably, there is an emotional immediacy and appeal to it. In these 9 new tracks – 7 originals and 2 inventive arrangements - the compelling storytelling shines through.

The title of the album, "Desert Bloom," refers to an extraordinary phenomenon which occurs in nature, and which resonated strongly with Hoefner: "I watched a documentary on water and was blown away by the footage of a desert bloom in Chile's Atacama Desert – the driest place on earth. In some parts of the desert, rain doesn't fall for up to 10 years. But then, when the rain does come, the colours explode. After staying dormant in the ground for years, protected underneath the hot and dry desert floor, the seeds of wildflowers suddenly germinate after heavy rainfall, turning the desert into a flower garden within days [..] This is what it has felt like to be a musician over the last two years. Waiting and waiting for the bloom." That period of 'waiting for the bloom' – for the trio to be reunited – lasted almost a year and a half. Most of the music for the new album had already been written by the end of the first pandemic lockdown, but it took until August 2021 before the three players could gather in the same place (Hoefner lives in St. John's, Newfoundland, more than 1300 miles from Toronto where the other two musicians are based.) Hoefner has found a leaner and more direct form of expression here. "The minimalists have made me want to think about the importance of every single note, about shapes and intervals…" There is also a constantly shifting balance of the roles in the trio, and an openness to new sounds, such as a bass variant of the folk fiddle "chopping" technique with the bow from bassist Andrew Downing. Of drummer Nick Fraser's contribution to this album, Hoefner says: "Nick is such a creative player with a huge dynamic range from the most filigree work to really hitting the kit hard." These contrasts are captured superbly on this recording. Throughout, remarkable interplay between the three musicians attests to their unparalleled rapport. This is jazz piano trio playing at an astonishing level. Hoefner, Downing, and Fraser grab the listener's attention as they create and link a myriad of moods. There is a palpable expressive immediacy in their exploration of emotional extremes. Hoefner's craft has never been stronger. With every listen, more and more of the album's wealth of compositional subtleties emerge. Florian Hoefner has had a unique trajectory through music, which may to some extent explain a capacity, noted by critics, to keep revealing new and unexpected facets of his artistry.