Florian Hoefner Trio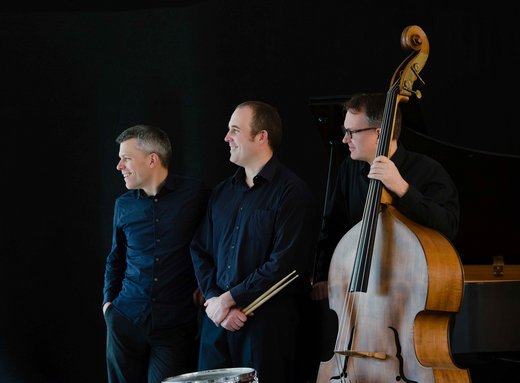 You are never really allowed to leave the music of Florian Hoefner once you have listened to it. The pianist has a knack of taking possession of your sensibilities, making the notes of melodies leap off the page and into you.

First Spring
The music of First Spring is no different. Setting out to capture the splendor of music swirling around in his mind, the pianist has succeeded in relocating the ethos of traditional songs and the high and lonesome sound off bluegrass to the landscape of jazz. In the collision of these musical realms, something truly remarkable and miraculous emerges that gives new meaning to the definition of "beauty" and becomes central to Hoefner's aesthetic credo. He demonstrates that the heart of tradition lies in innovation. If Hoefner remains in the tradition, he also soars – and in doing so – also sets the music on this 2019 album exuberantly free.

The music and style of First Spring is a marked departure from earlier releases. "First of all," says Hoefner, "I wanted to create something different from the music on my quartet albums. As much as I love the sound of the quartet and hope to return to that medium soon, I was looking for something fresh and a new challenge. In recent years, I have been listening more and more to records by folk and country artists like Sam Amidon, Levon Helm and Chris Thile. I explored what made this music so compelling and how I could transfer it to the setting of a jazz piano trio without losing its original vibe. A common denominator in a lot of this music is the sound of the fiddle. It occurred to me that with the double bass I have a string instrument in the trio that I can use for exactly this purpose. So I started arranging some of my favourite songs for piano, bass and drums, often using the bowed bass as an additional melody instrument." The often swinging and sometimes sedate pulsating heartbeat for this music is provided here by drummer Nick Fraser while Andrew Downing brings his contrabass – frequently wielding his magical bow as he plays con arco – to augment the rhythmic realm and join Hoefner in exploring the melodic content of the music as a kind of second lead-voice.